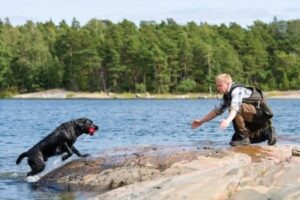 For hunting dogs, not only do hunting dogs need to receive normal obedience training, they also need to have retrieving training. It is very easy to spot the weaknesses of a puppy, but the strengths of good hunting dogs are developed over a number of years.
The best puppies to train are those who seem very lively, alert, quickly spots objects in movement, and loves to retrieve objects. To make the most of these traits, they have to be trained in ways that emphasize these traits.
The personality of the hunting dog could fall into three separate categories: hounds and trackers, retrievers, and pointers and setters. Labradors are often chosen for their trainability, retrieving ability, and the fact that they tend to be excellent swimmers. Labradors fall into the retriever personality because of their ability to retrieve and swim.
Hunting dogs have five different levels of behavior. These include irritability, reflexive, instinct, emotion, and intelligence:
Irritability

: This refers to the dog's five senses. The sense of smell will be the most acute. One of the primary functions of a hunting dog is to be able to detect scents.

Reflexes

: The ability to change directions quickly when they pick up new scents is very important.

Instinct

: Dog's from the wild have an instinct to hunt and capture- this kind of instinct is ideal for a hunting dog.

Emotions

: Behaviors such as wagging its tail or whimpering will be evident in any kind of dog, but this is a way that your hunting dog will share what it is feeling and will be how they share in companionship.

Intelligence:

This may be the most important out of all of the levels. The ability for your hunting dog to understand what to do in different situations and the ability to listen to its master at all times is critical.
Many times, the dog has to get used to the sound of gunshots before they can be trained to do the other behaviors needed of a hunting dog, but it will be worth it to have your canine friend out with you when you go hunting.